Digital Citizenship in plain English: norms, rules and regulations applied when using technology appropriately and in a responsible way.
See other definitions:
"Digital citizenship is about confident and positive engagement with digital technologies. (….)"
"(…) the quality of a response to membership in a digital community (….)"
" (…) Digital citizenship empowers people to reap the benefits of digital technology in a safe and effective way. (…)"
The semantics – elements, dimensions, pillars, core values, competences …… 
| | |
| --- | --- |
| Digital Etiquette | electronic standards of conduct or procedure. |
| Digital Communication | electronic exchange of information |
| Digital Literacy | process of teaching and learning about technology and the use of technology |
| Digital Access | full electronic participation in society |
| Digital Commerce | electronic buying and selling of goods |
| Digital Law | electronic responsibility for actions and deeds |
| Digital Rights & Responsibilities | those freedoms extended to everyone in a digital world |
| Digital Health & Wellness | physical and psychological well-being in a digital technology world |
| Digital Security (self-protection) | electronic precautions to guarantee safety |
The DQ (The Digital Intelligence Quotient) Institute identified eight core digital citizenship competencies constituting DQ.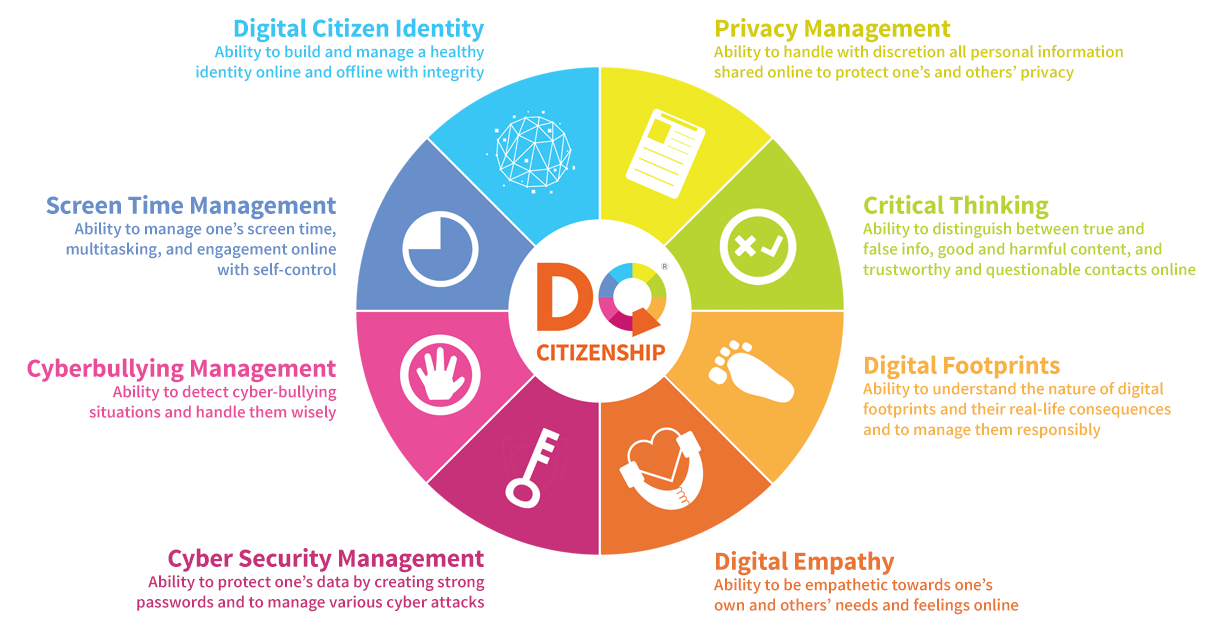 Visit the the DQ Institute website here for more information and resources.
An absolutely fantastic website The Digital Teacher Cambridge features an interactive diagram of six areas: DIGITAL WORLD, DIGITAL CLASSROOM, DIGITAL TEACHER, DESIGNING LEARNING, DELIVERING LEARNING and EVALUATING LEARNING. Find out more about The Cambridge English Digital Framework for Language Teachers HERE.
Useful resurces: 
DIGITAL CITIZENSHIP AGREEMENT – three, FREE TO DOWNLOAD, documents  published by Global Digital Citizenship Foundation HERE.
And my favourite Be Internet Awesome Pledge by google.
Posters on the wall with tips (available free for downloading and printing here)
Collection of posters from commonsense.org
Free classroom poster: I am a digital age learner
Free poster (British Council)